The Most Compassionate
Surah Al-Rahmaan, Verse 1
Find out about latest News related to our Centre
𝗘𝗶𝗱 𝗔𝗻𝗻𝗼𝘂𝗻𝗰𝗲𝗺𝗲𝗻𝘁 - 𝗧𝗵𝘂𝗿𝘀𝗱𝗮𝘆, 𝟭𝟯 𝗠𝗮𝘆 𝟮𝟬𝟮𝟭
Morden Islamic Community Centre is pleased to confirm the day of Eid al-Fitr (1 Shawwal 1442) will be observed on Thursday, 13 May 2021.
Fajr Jamaat – 4.30am (Eid day only, after which please refer to timetable)
EID JAMAATS (please aim to arrive at least 20 minutes before Jamaat time): Sheikh Bilal Patel Mufti Suhail Ahmed to be confirmed
The Eid Khutbah will be held AFTER each Jamaat
MICC has arranged limited spaces for sisters. Due to Covid restrictions and social distancing there will be 20 spaces at each Eid Jamaat on a first come first serve basis
Fitra: £4 per person must be paid for each member of your family before Eid Jamaat.
See her PDF version of this announcement.
---
Here are our latest timetables for the months of May and June respectively.
Ramadhan 1442 Guidelines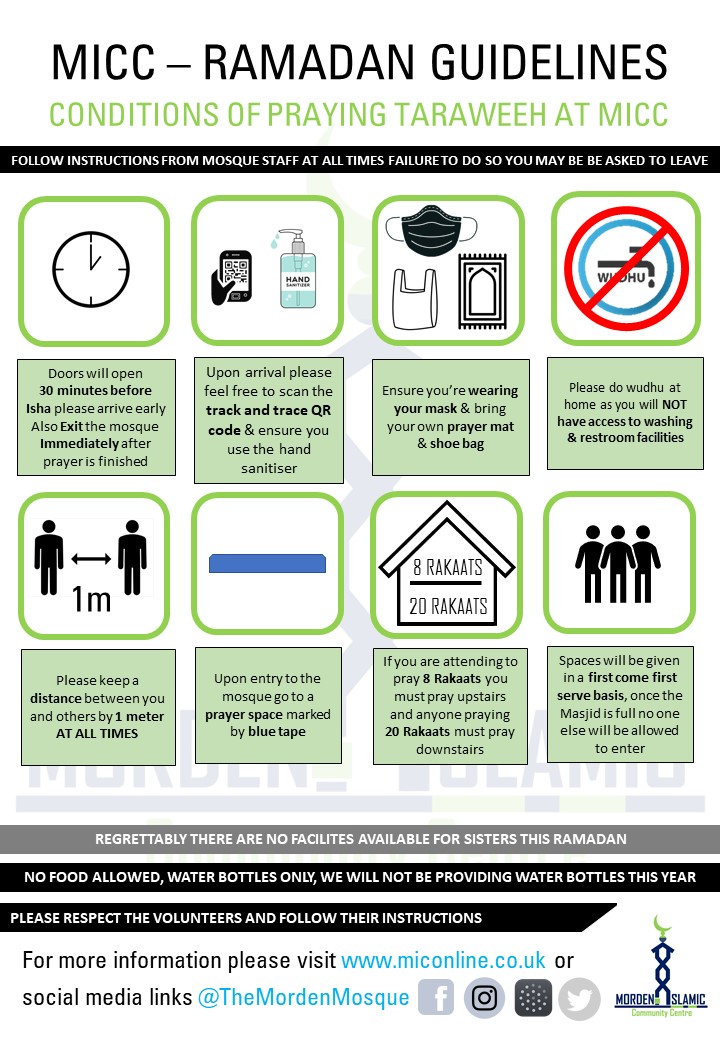 COVID-19 UPDATE
Due to the on-going health crisis a number of changes have been made to arrangements in the Masjid.
Tier 4 Restrictions - UPDATED 1 APR 2021
The centre will continue to remain open for all daily Salah. We will review this regularly and the risk levels will be determined by attendees adherence to the rules. Please ensure you strictly follow the rules below when coming to the centre:
Write your name and contact number on our data sheet when entering
Wear a face mask covering your NOSE and MOUTH at all times
SANITIZE your hands using the hand gel provided when entering the centre
Bring your own personal prayer mat
Bring a bag for your shoes and take these inside with you
Pray in the marked areas only
Maintain social distance of 2m at all times
Do not congregate inside or outside. Leave immediately and return home
Do not come to the centre if you display any cold like symptoms
Do not come to the centre if you have been in contact with someone you has symptoms or has tested positive for Covid-19
Jummah Arrangements
The first Jamaat will now be at 13:30 . The second Jamaat will be at 14:00 insha'Allah.
This is to ensure we avoid any queuing outside the masjid. Please do not arrive any earlier than 15 mins before the Jamaat times.
We appreciate your support to follow these rules so that we can keep the centre open for the community insha'Allah.
For regular updates, please subscribe to one of the social media accounts in the following list:
We are assessing the situation daily and will provide any updates here as necessary.
Please see latest Merton Burial Guidelines during the pandemic.
Support us & community with
Donations & Zakah
Every contribution that you make, however large or small, helps us hugely.
If you wish to make a donation to help the mosque or support the needy with Sadaqah, you can do so with the following button:
Find out about latest News related to our Centre
MICC is a window of the registered charity Morden Islamic Centre. The charity has been serving the community since 2005. Initially the charity served the local community by offering its children Islamic education. The overwhelming response and pressure from the Morden area warranted a premise that would cater to the needs of the Muslim community beyond the education of its young. It was thus decided to initiate the prayers at 2a Crown Lane. For a few years the two halls, though cramped, managed to provide a focal point for the Muslims of the community. However, over the years the numbers would far exceed the capacity of 2a Crown Lane and the decision to move the venue to 116 London Road was made.
Learn More
Serving Humanity
Our Services
Prayers
MICC provides facilities for the 5 daily prayers as well Jummua prayers and Taraweh/Qiyaam during Ramadhaan. The Masjid provides a capacity for over 1000 people over 3 floors catering for men and women.
Food Relief
Food Relief is a food bank operating under the registered charity Morden Islamic Community Centre (MICC), with the support of Merton Council. We serve the most vulnerable members of the entire community regardless of background.
Classes
A range of Islamic and secular education for both adults and children is available. For more details visit this page. MICC has a range of classes over weekday and weekends teaching Qur'an, islamic circles and many others.
Sunnah Sports
Sunnah Sports can provide the following activities at MICC, kickboxing, aerobics, 121 personal training and gym access for women. For men we can provide MMA/self defence, 121 personal training and gym access. For children we can provide cardio/self defence classes.
Marriage Services
MICC offers a range of marriage services, including nikkah and counselling. We are aiming to be able to conduct civil marriages within the MICC premises in the near future.
Funeral Services
MICC in partnership with Muslim Funeral Service now offers a complete funeral service to the local Muslim community. This includes: Ghusl, Kafan, Casket and cemetery arrangements. MICC can also arrange for the Janazah Prayer to take place at the centre. For further information please contact the Management at MICC.